CNBC plays an integral role in the forum. Coverage of the panels and discussions with global CEO's begin around 2 A.M. EST. As an early bird, and this week being my equivalent of Christmas (I am that much of a geek!,) I am aggregating some of the most poignant and interesting comments and views from Davos 2018 which I will include following the risks.

As you can see, Davos is chock-full of discussions and gives a good feel of sentiment for the year ahead. I will leave you with a few interviews with the CNBC anchors and some of the most influential business people in the world.
Powered by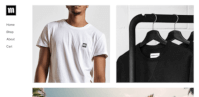 Create your own unique website with customizable templates.